Updated August 1, 2019
Click on Picture for larger view.
CFA Grand Champion Dolly-Chiny Divine MSM of Sal-Shire, 9 months
CFA Grand Champion Sal-Shire Cookies & Cream, 10 months old!
CFA  Grand Champion and TICA Grand Champion Sal-Shire Sweet Pea
(Sweet Pea is Maximum Ride's daughter!)
RFCI 2017-2018 2nd Best Kitten
CFA Grand Premier and TICA Quad Grand Champion Alter Sal-Shire The Boss
RFCI (Ragdoll Fancier's Club International) 2nd Best Alter 2017-2018,
2017 CFA Region 1-8 Best Ragdoll Alter,   and RAG (CFA's Ragdoll Club) Best Ragdoll Alter.
Bordeaux LTD Sassafras of Sal-Shire is a CFA Grand Premier
Beautiful CFA GC and QGC (TICA)Sal-Shire Merida of Doll Villa, Owned by Lauren Tan in California
Above three photos, GC RW and TICA RW QGCH Sal-Shire Merida of Doll Villa.
Thank you Lauren Tan for caring for her, loving her and presenting her in such wonderful condition!
Merida was TICA SW Region's 15th Best Longhair Cat 2015/16 show season.
Tess is now a CFA Grand Premier and a TICA Quad Grand Alter!
Nudge is now a CFA Champion and a TICA Triple Grand Champion!
Riley is now a CFA Champion
Maximum Ride……
Her show achievements are:

Best Ragdoll CFA Championship, Southern region 2013/2014 show season
19th Best Cat All Breed, CFA Southern Region 2013/2014
Third Best Ragdoll CFA Championship (world) 2013/ 2014
RFCI's 4th Best Ragdoll in Championship2013/2014
RAG's 2nd Best Ragdoll in Championship 2013/2014
16th Best Longhair Cat SE Region TICA 2013/2014
3rd Best Ragdoll SE Region TICA 2013/2014
Best Ragdoll Kitten Southern Region 2012/2013 Show Season
Third Best Ragdoll Kitten in CFA 2012/2013 Show Season
We also had two other CFA Regional breed winners for the 2013/2014 show season!
Sal-Shire Doctor Who, owned by Rebecca Vann-West was 2nd Best Premier, and 3rd Best Cat in Premiership for RAG
Sal-Shire Second Chance, owned by Kathi Christy was 2nd Best Ragdoll Kitten, CFA SOuthern Region
In the Alter/Premiership class:
QGCA (TICA) and Grand PR (CFA) Bordeaux LTD Altesse of Sal-Shire (Tess)
Photos From Past Shows:
Below:
Cattyshack Cats, North Augusta, SC Sept 14 & 15, 2013
Max is about as laid back as it gets! This little girl came to visit the cat show and Max loved the attention!
Below: Grand Premier Doctor Who, owned by Rebecca in Augusta. He is Max's younger brother and one of Sassy's babies! Photo taken November 2013 at Cottonstates Cat Show while he was working on getting his Grand Premiership.
Below: CFA Judge Walter Hutzler judging Sal-Shire Doctor Who

August 4, 2013 CFA, Simpsonville, SC
Max made a final in all six rings, 2nd highest scoring in Championship! This was
our best ever show…..
Below: Judge Wayne Trevathan makes Max "Best Cat"
Max and her "Best Cat" rosette
Above: Judge Larry Adkinson made Max "2nd best Cat"
Not pictured, is "3rd Best Cat" in Judge Jacqui Bennett's ring
Below: Judge JoAnn Miksa-Blackwell made Max "5th Best Cat"
Below: Judge Teresa Keiger made Max "7th Best Cat"
Judge Doug Myers made Max 7th Best Cat
July27 & 28, Spartanburg, SC, TICA
Max made her Supreme Grand Championship title in TICA!
Judge Steve Larsen made Max 4th Best Cat, Spartanburg, SC
Judge Lynne Sherer made Max 4th Best Cat, Spartanburg, SC
Judge Barbara Ray made Max 10th Best Cat, Spartanburg, SC
Below: June 16, 2013  in Gaithersburg, Maryland, CFA
May 25th, Vero Beach Florida  CFA
Max made her CFA Grand Championship!
Max, Shelby NC show, 2013
Above: Max being judged, Shelby NC CFA show
Concord NC Feb 9th & 10th
Last kitten show!
Above: 6th Best Kitten Final, Concord NC Febr 9th
Birmingham Al, Ja 26 & 27 CFA show
Max made five finals!
Max in Birmingham (above and below)
Above: At Birmingham 2013
Max being judged, Nashville 12/29/12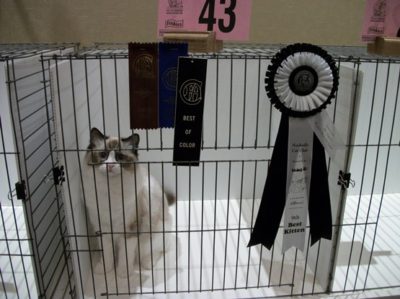 Tess being judged at the TICA show in North Augusta 9/15/12
Tess, TICA show in North Augusta 9/15/12
Gros Gris, TICA show in North Augusta 9/15/12
Gros Gris, TICA show North Augusta 9/15/2012
Gros gris, TICA show North Augusta, 9/15/2012
Sassy, April 15 2012 at Atlanta TICA show
Sassy being judged December 2012, 9 months old
Sassy, Jacksonville, Jan 8, 2012
Sassy, Jan 28, 2012 Birmingham